ACPC – Wildlife Aware

CAMPAIGN FOR RESPONSIBLE RODENTICIDE USE (C.R.R.U.) / BASIS WILDLIFE AWARE QUALIFICATION
Our technicians at ACPC Pest Control (Stranraer) have attended and passed the above course and are Wildlife Aware Accredited Technicians, providing efficient rodent control while minimising unwanted impacts on non-target species and the environment.
Wildlife Aware accreditation is offered to all those who attend the course and pass the examination. This accreditation is designed for professional pest controllers offering a commercial service of rodent pest management in the rural sector.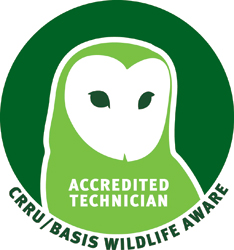 This accreditation is intended to signal to prospective customers that those who hold the accreditation will work to the highest standards to achieve effective pest control with minimum adverse effects on wildlife and the wider environment.
Accredited technicians will be able to use the licensed Wildlife Aware logo as a visual representation of their skill and increased competence.
Wildlife Aware accreditation is given to the individual who attends the course and passes the examination and will follow the individual wherever he/she works.
© BASIS (Registration) Ltd.BASIS is a trade mark of BASIS (Registration) Limited. All rights reserved