STANDING OUT FROM THE CROWD WITH THE MARK OF A TRUE PROFESSIONAL
What is BASIS PROMPT ?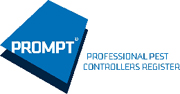 BASIS PROMPT is an independent industry/government recognised register of professional pest controllers who have achieved the required level of competence and have invested time in keeping their knowledge and skills up-to-date.
BASIS PROMPT registration certifies that our technicians have received a high standard of training  (RSPH Pest Management Level 2  is a required qualification  to join) but also to remain on the register our technicians must be prepared to spend time keeping up-to-date through Continuing Professional Development (CPD).
ACPC  are committed to a progressive approach to training ensuring we continue to provide the very highest standards of pest control for our customers.